I'm sooooooo cited! We have some fabulous things planned over at The Stampman. The amazingly talented Jill has assembled a brilliant design team and we are all up and raring to go.
The first of our events was launched on the 1st July with the return of The Stampman's ATC Swap Challenge, which is organised by my amazing teamie and friend Janet.
The starting theme is 'Wings' and is open until the 31st July so if you love sending and receiving ATC's you definately need to pop over and join in the fun
Here's a couple of ATC's I made using stamps from the fantastic sale that's on at the moment
The next excitement is the launch of
The Stampman's new Challenge Blog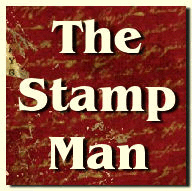 which kicks off today with it's first challenge
And it most certainly does - with a fantastic prize for the first challenge of a £10 voucher to spend either in the shop or on line.
So here's my first design for the challenge
And there's more!!!!
On the 24th and 25th of July Jill and Ian are hosting a
Demonstration/Open Weekend
from 10am till 5pm.

Jill Boulton, Tracey Coates, Vix Kennedy and Jill are demonstrating and Janet and I will be running a
Make and Take using an oriental goody bag which will be available on the day.
Hope you can join us with the new challenges and on the day, be lovely to put faces to names so make sure you come and say hello!
Wow that was a mammoth post and just a taste of the delights to come
Hope to see you over at The Stampman
x Michelle